J.O.Y. Reviews: Fresh Cafe
2:32 AM
When you hear the word
fresh
, the sight of brightly colored vegetables comes to mind, doesn't it? No one ever thinks of the word
fresh
and then visualizes a can of food. At Fresh Cafe in Kaka'ako, the food is always freshly made with fresh ingredients, never stale, never old, never cold from sitting around waiting to be served. It's located smack dab in the middle of the Kaka'ako district which is known for being hip and artsy. There isn't one thing on their menu that I have not enjoyed eating. True story.
Here's a little about the company from their
website
:
Founded in July of 2009, Fresh Cafe was born into the hip and up and coming industrial district of Kaka'ako. A hidden oasis with an eclectic mix of artists, students, musicians, and entrepreneurs who need to get away from the hustle and bustle of the city. Fresh is known for serving each coffee drink freshly pressed with our 100% Kona coffee beans. Fresh serves homemade cookies, bagel sandwiches, soups, salads, breakfast foods, desserts, and locally made product. Open early mornings and late nights, we have the latest cafe hours in town! Fresh Cafe is also known for the large warehouse space in back, which is known as the Loft in Space, where you will often find live music, art, and the largest slam poetry event in the nation!

The Fresh mission is to provide a unique gathering space for the community by offering healthy food choices and showcasing both up-and-coming and major talent in music, art, and cuisine. We strive to promote creativity, sustainability, local business, and Fresh ideas. We are here for the next-level dreamers, fearless innovators, and dedicated visionaries. We dare to inspire and be inspired.
I went there on a bright, sunny day with my fiancé to get a quick bite to eat on my lunch break while he and I ran errands. I went in not knowing what to get and ended up ordering a combo plate which translates to a sandwich & "half" a salad. You can see by the pictures, this isn't some skimpy side salad. The salads at Fresh Cafe are big and delicious.
I had a very delicious balsamic vinaigrette salad. It was an amalgamation of different veggies with nuts. The dressing was just the right amount, perfectly balanced. Each bite created an amalgam of awesome in your mouth that words alone cannot describe. Does this look like a half salad to you? Yeah, that's quite a generous portion!!
I also had a pretty basic, pretty delicious club sandwich. It was full of meat with just the right amount of mustard and I
absolutely love
the addition of the alfalfa sprouts in the sandwich. So yummy. I was so full after eating this that I felt absolutely stuffed. It's the perfect portion if you're hungry. If you're not
that
hungry, you might want to opt for either the sandwich or the salad because the two combined is just a
lot
of food... (not that I'm complaining at all)!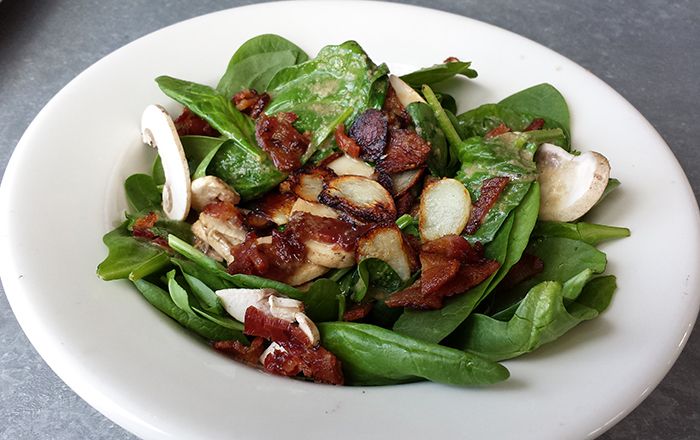 Andrew had the Turkey & cranberry sandwich which was delicious
(yeah I had a bite)
and this Warm Spinach, Bacon and Garlic salad that I was absolutely obsessed with. It sounds weird but it is
absolutely
delicious!! That will be my new "must" when I'm at Fresh Cafe.
I literally can't say enough good things about the food at Fresh Cafe. The price was right too. I highly suggest you check out Fresh Cafe if you're on the island of O'ahu.
Click the "read more" link for their full menu!
MENU