Arielle Grace Ke'ohilani
5:00 AM
I know those of you who saw my post
yesterday
or follow me on
Instagram
or Twitter, have probably already seen photos of my baby girl Arielle Grace Ke'ohilani. These are the first photos of her that I haven't shared with anyone yet and they're probably the most precious photos I have of her because it shows those precious moments of her birth, some of which I didn't even get to fully witness because I was under anesthesia and on the operating table. This is our birth story.
On Monday October 6th, I had a doctor appointment (4 days prior to my due date). I was big pregnant and we knew it was going to be
another
big baby for me. After all, my son Alaka'i was 10 lbs 4.8 oz at birth and they say the 2nd baby would be bigger so we were expecting 9 lbs or more. The doctor who actually performed my ultrasound told me that she was in position and ready to come but I was not in labor. They decided that I should be admitted to the hospital that day to be induced because she was locked in position and I was thinning and my body was getting ready to bring Arielle into the world. Well, we checked in Monday afternoon and they gave me all of the medication and I pushed and labored all night long. I woke up the next morning and was still in labor but not progressing the way that we had hoped. I was in labor for 3 days with Alaka'i so I wasn't all that surprised.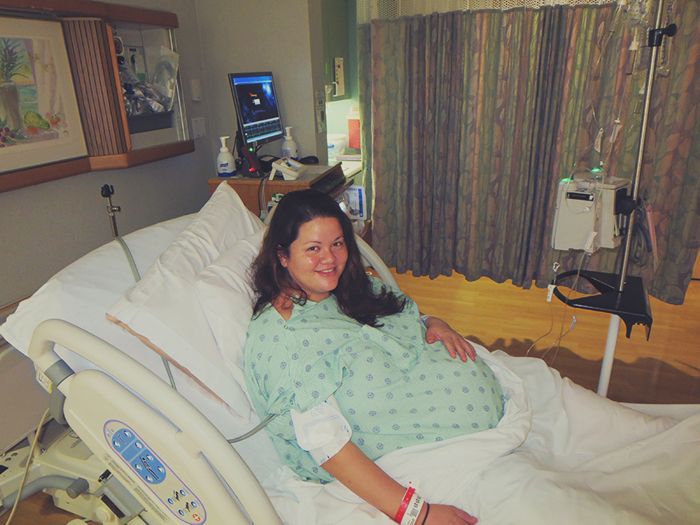 Towards the afternoon after still being on labor inducement medication, I started to really dilate and was at 9 cm but then it stayed at 9 cm for over 3 hours. The doctors kept checking me and I didn't dilate more and the resident doctor said that I was in major stress and so was the baby and that he wanted to call my main OB and have her come down and give me a C-section.
Wait, what??? A C-Section? NO!!!
That was not the delivery plan I had made. I had delivered a healthy 10+lb baby boy before, I could give birth to my daughter naturally. I didn't want to have
surgery
!!! Needless to say that both he and my OB expressed the need for me to have a C-Section as baby Arielle's heart rate was dropping and she was showing signs of distress. I sobbed, I worried, I panicked and my son Alaka'i was there by my side with my husband Andrew and my mom. We've never had a C-Section in our family, I've read horror stories about them. Heck, one of my favorite YouTube mamas had died after a C-Section due to "complications of labor". I was
freaking out
, like really, desperately afraid. My son cried with worry for me and the doctors told me it was time and I agreed. They whisked me away, prepped me and my husband came in and they started to cut me open. I will spare you the nasty details and photos as they are less important than the fact that a precious little girl,
my precious little girl
was about to be brought into the world.
The anesthesiologist had to give me a more potent pain medication because I could feel as my doctor cut into my flesh so there was a period of time where my eyes were closed, I could hear what was going on, but I was off in an imaginary world full of colors and randomness. It was wild. I heard my name being called and it was my husband Andrew saying that our baby was being born. Then he walked away and the anesthesiologist told me to look to my right and I could see her. In my haze, I turned my head and saw the nurses and doctors checking my screaming little pink darling baby.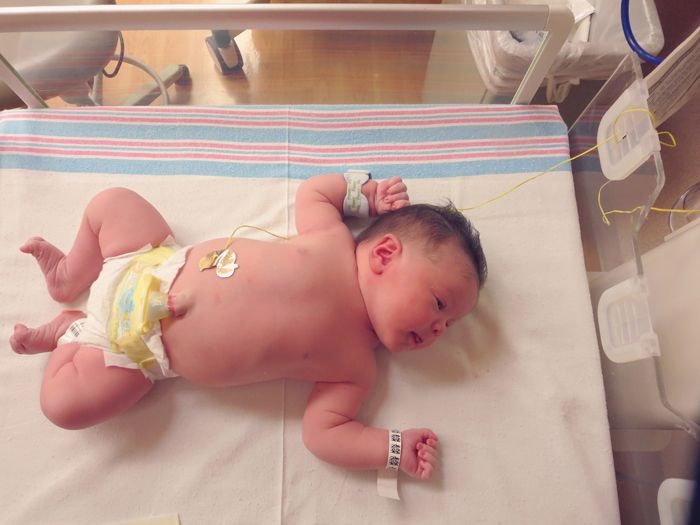 I closed my eyes. I opened them and my husband was there with this fluffy, soft, pink, precious baby girl and tears in his eyes. She was so beautiful, so perfect. She was my little girl. Oh she looks like me and her daddy. Oh my precious baby. Arielle Grace Ke'ohilani came into this world on October 7th, 2014 at 9:42 pm weighing 11 lbs 5.7 ounces and 23.75 inches long. She was a big, healthy, pink, beautiful, loud little baby girl. I was instantly in love and have been with her since that day. Though she's changed significantly in her looks as these last
nearly
7 months have passed, she is the most beautiful little darling in the world
(I swear, I'm not biased or anything)
Thank you Jesus for this beautiful girl, this healthy little baby girl and our little family that Andrew and I had that was growing. Gone were the days of being alone. Gone were the days of crying holding my baby boy feeling like a failure, feeling so alone. Gone were the days raising and parenting my little boy with no partner to help me, to teach him. Now we were a family. Alaka'i and I were not a lone pair anymore. We were a family with Andrew and now with Arielle.
"What's in a name? that which we call a rose by any other name would smell as sweet;"
Arielle Grace Ke'ohilani, my little girl. Arielle meaning
Lion of God (Hebrew),
Grace for
God's grace (when Jesus died on the cross)
and Ke'ohilani
(Hawaiian meaning "heavenly harvest/harvest of heaven").
Like her brother, her name was carefully chosen and the meaning of her name in my life goes deeper than any words on a page can express. She's such a precious little darling and I love her so!